We are mothers proudly supporting our children currently serving in, or honorably discharged from, the United States Armed Forces.
Through our monthly meetings and chapter activities, our members support each other, our children in the military, wounded veterans in need, and veterans in our area as we promote patriotism.
You will see us in parades, serving breakfast at our veterans homeless shelter, preparing meals for wounded warriors who have come to train with service dogs, and placing flags on the graves of our fallen heroes.
We host fundraisers that allow us to support our troops with care packages and donations to organizations that support our service members, both active and veteran.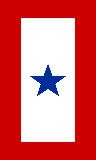 You will see the Blue Star Banner proudly displayed in our windows, waving in our gardens, or as a decal on our cars.
As mothers, we stand proud and honored that our children have chosen to serve this great nation.
We thank them every day for protecting our freedoms and pray every minute for their safe return to our loving arms.
We are a non-profit 501(c)(3) service organization, chartered in 2007 as a Chapter of the Blue Star Mothers of America, Inc.
If you would like to make a donation, please make checks payable to "Blue Star Mothers" and mail it to: PO BOX 31, Worcester, MA 01613-0031.